Pneumatic & Hydraulic Spray nozzles
IKEUCHI'S spray nozzles and fog technologies have played a vital role in a broad range of industries. With more than 42,000 standard nozzles to choose from, IKEUCHI offers a truly extensive lineup of products. There are unlimited possibilities for our nozzles and nozzle-related products in any industry or application.
Dust reduction & Pollution control
Cooling & Temperature reduction control
Cleaning & Watching solutions
Humidification control
Chemical applications
Sausage and ingredients adding in Food & Beverage
Industries: Food & Beverage, Cement, Automotive, Steel, Mining, Glass, Chemical……

Rotating nozzle for 3-Dimensional cleaning

Shower Ball cleaning nozzle (Low and medium-pressure type)

High chemical-resistant rotating cleaning nozzle
Industrial Cooling Systems
The introduction of spray nozzles in food product operations has helped achieved greater automation, higher precision and cost-reductions compared with old approaches which relied on manual operations. Our spray nozzles play an important part in the creation of delicious and safe food and beverage products, whether they be bread, rice balls, frozen foods, snack foods, beer, or anything else.
Our involvement in the steelmaking industry goes back many years: we developed pneumatic spray nozzles for steelmaking applications in 1983, where they were used for cooling purposes in continuous casting operations and also put to use in other applications. Our spray nozzles are also used in processes including descaling, washing, surface treatment, and dust suppression.
This non-drain rapid cooling system emits fine fog (Dry Fog [*1] and Semi-Dry Fog® [*2]) to rapidly cool auto bodies, chassis and bumpers. Switching from fan-type cooling equipment to our system can shorten cooling times, improve work-environment problems (by preventing worker burns), and suppress temperature rises in production line facilities to cut cooling costs for the overall factory environment.
The use of sensors, controller devices, water treatment equipment and so forth cools automotive bodies without wetting them.
*1) We define Dry Fog as a very fine fog with a uniform, mean droplet diameter (mean fog droplet size) of 10 μm or less. Because Dry Fog's exceedingly fine spray droplets remain intact without bursting when they come into contact with objects such as a walls and people, they do not wet these impact surfaces.
*2) We define Semi-Dry Fog® as a fog with a mean droplet diameter (mean fog droplet size) of 10–30 μm. This highly useful fog features fine droplets and does not include large droplets which can result in wetting of objects and surfaces.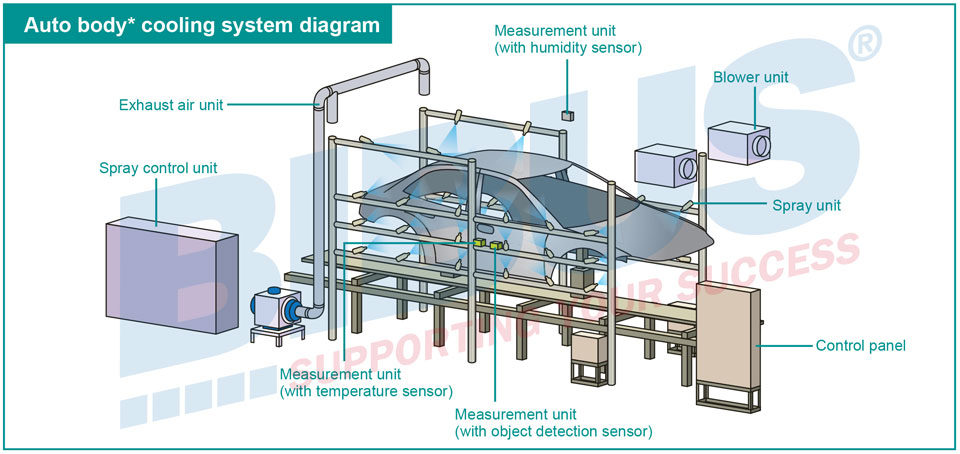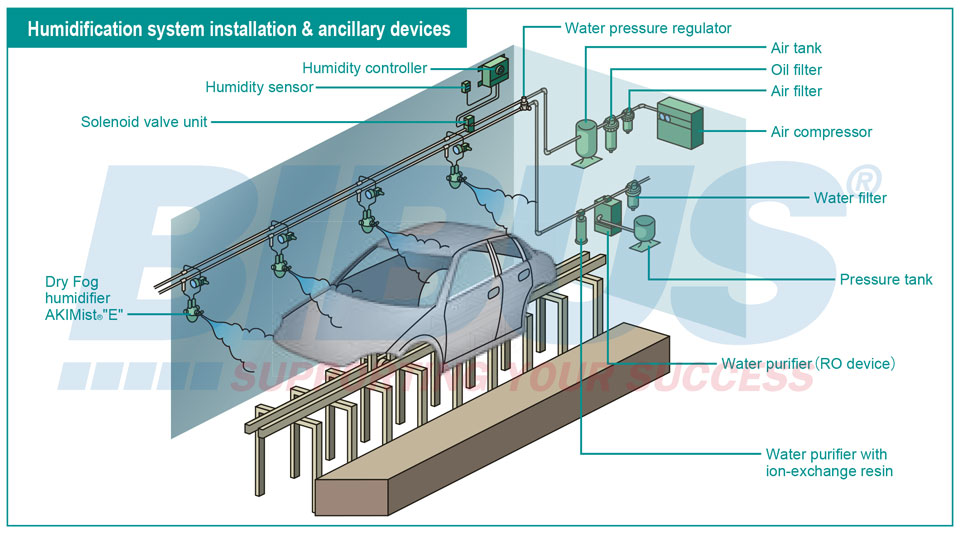 Airborne dust particles can cause a range of issues and are difficult to contain, especially in outside environments. Suppressing or containing dust can be done by either lightly wetting the substance you wish to contain, or by fogging. When suppressing dust via fogging, our humidification systems spray small water droplets the same size as dust particles. These water droplets collide with the dust particles mid air and weigh them to the ground.
In fields such as papermaking and printing, spray nozzles are used in almost all processes. Our spray nozzles are used for canvas washing, edge-trimming, controlling moisture content of paper and cardboard, air for sheet separation and transport. Our nozzles are also used to remove particles from post-washing waste water, and support environmental protection.
Thanks to our experience in the electronics processes, we contribute for surface treatment and cleaning application at the wet process and for ESD prevention with our atomizing technology at the assembling process.
Applications for each process:
Wet process: Washing improvement (Wafer, PCB , glass substrates, and etc …), saving chemical liquids and DI water, etching improvement, air-blowing improvement etc.
Assembling process: ESD prevention, saving air-conditioning cost, and dust-related problems.