ATEX Certified Lifting Solutions
TAWI's extensive range of ATEX certified, hazardous environment solutions are specifically designed to improve safety
While minimising downtime and maximising productivity.
When lifting or moving materials in hazardous environments, safety is essential. The risk of explosion or combustion endangers not just your operations, but your employees as well.
TAWI has you covered, with a complete line of lifting solutions for ATEX restricted areas. TAWI's extensive range of ATEX certified, hazardous environment solutions are specifically designed to improve safety, while minimising downtime and maximising productivity, ensuring safety at every stage if the handling process and in every detail of our products.
What is an explosive atmosphere? (and who knew that sugar could explode?)
Hazardous workplaces where flammable or combustible substances are stored or used are found in a wide range of industries, from chemical and pharmaceutical operations to milk drying and sugar refinement. Handling materials in these environments requires the highest level of engineering and safety. A TAWI ATEX solution mitigates the risk of explosion without sacrificing efficiency, safety, or ergonomics.
Hazardous work environments are classified in terms of zones, according to the frequency and duration of the occurrence of explosive atmospheres. TAWI solutions cover Zones 1 and 2 (gas hazardous environments) as well as for Zones 21 and 22 (dust hazardous environments). TAWI supplies a range of ATEX certified products for these areas, with each solution customized to the specific project at hand.
Specifically engineered to meet ATEX requirements
It is vital that each and every component of a lifting system be approved for explosive environments, even if they are not to be located within the actual hazardous environments itself. To meet these requirements, each component of a TAWI ATEX certified vacuum lifter system is purposely designed, tested, and certified to meet the specific guidelines for reducing the risk of explosion in hazardous environments.
It is important to carefully plan both selection and placement of equipment in explosive environments.
TAWI has modified our already stringently tested solutions to meet ATEX and OSHA requirements* for hazardous handling to guarantee the highest level of protection in explosive environments. All of our TAWI Multifunctional lifter models, for example, can be modified to meet ATEX regulations and we also supply ATEX-modified profiles for our crane systems and jib arms as well as special lifting trolleys for ATEX environments.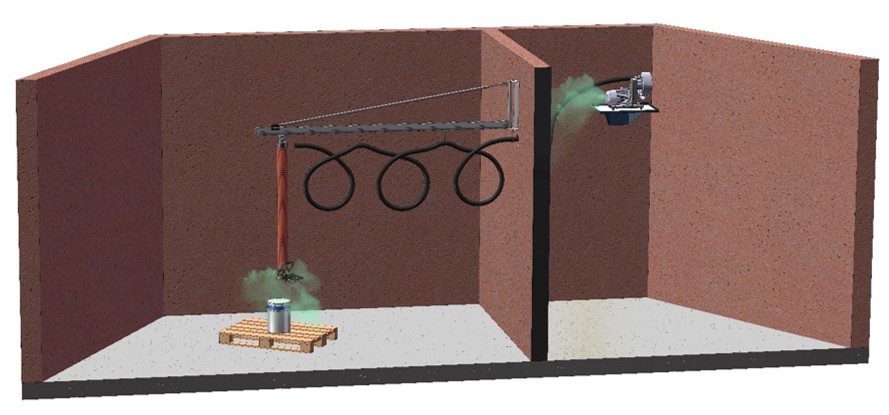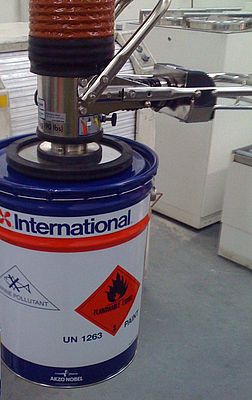 TAWI ATEX lifters
TAWI vacuum systems and accessories approved for ATEX use are manufactured in stainless steel and are connected with ground/earth wires to make sure no static electricity can create an ignition. Contact us and get expert advice for your specific ATEX requirements.
Complete solutions for ATEX zone 1 & 21 and zone 2 & 22
ATEX specific vacuum pumps or ejector pumps
Lift systems handling various loads up to 135 kg
ATEX adapted jib cranes and crane systems
High speed lifting equipment
Standard, fixed and flex handles for optimal ergonomics
Vacuum lifters in ATEX area
TAWI vacuum lift systems use vacuum for both lifting and gripping the load and are designed to work at the whole vacuum level range between 0-60% vacuum. The higher vacuum level the system reaches, the higher you lift. TAWI ATEX lifter allows you to lift effortlessly in ATEX regulated facilities.
Tailored to meet the specific demands of your company ATEX area
Always designed with focus on maximizing safety and ergonomics
Smoothly integrated to fit your business workflow
Complete systems from one supplier, making the purchasing process easier, faster and more efficient