The main product in the item Lean Production Building Kit System is Profile Tube System D30 for lean production – bringing maximum efficiency to lean systems and internal plant logistics.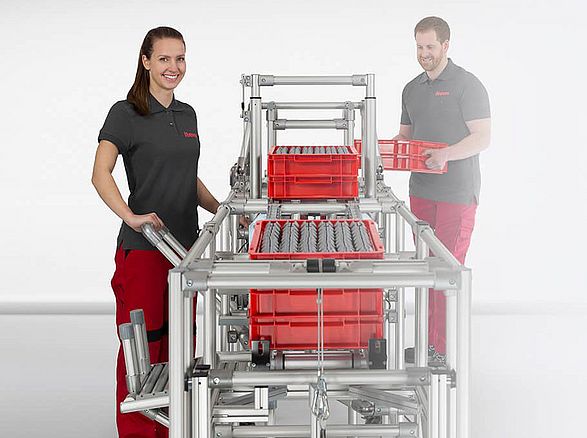 Lean processes with Profile Tube System D30
The lean system for building your factory equipment
Profile Tube system D30 is ideal for building sophisticated, solution-oriented factory equipment fast. It is exactly what you need to implement the successful concepts of lean production in your plants, continuously optimise material supply and production processes, and thus lower costs.
The flexible Lean Production Building Kit System from item can easily adapt to new workflows. Its components have been specially modified to meet the demands of lean processes – they are light in weight, exhibit long-lasting stability and feature a modular design.
Karakuri/ low-cost automation - Intelligent automation
Intelligent automation
In the era of Industry 4.0, automation is becoming increasingly important. However, the term "automation" covers much more than just the complex high-tech robots that many associate with modern industry. The principle of Karakuri Kaizen, a central component of the lean philosophy, centres on easily implemented automation solutions that operate on a purely mechanical basis. By making clever use of kinetic energy as it is released and consistently avoiding waste, this approach can yield striking results.
Lean production systems: The fast and theo ferro-cious
All the components of the item Lean Production Building Kit System are perfectly suited for use in lean production. Tube D30 and Profile Tube D30 form the basic structure of all designs. D30 aluminium profiles and fasteners can be assembled directly on site to build sturdy racks and factory equipment. All connections are stable as soon as they have been tightened.
Profile Tube System D30: Lean production with item
Material supply made easy
The rapid construction of flow racks and a huge selection of roller conveyors make it especially easy to work with standardised containers and workpiece carriers for intralogistics. Keep everything flowing smoothly – with the help of the material supply components from the item Lean Production Building Kit System, you can implement your intralogistics solution easily and reliably.
Material Flow
When movement matters
Goods, finished parts and consumables – in a modern production system everything has to keep flowing. Achieving that requires cost-effective conveyor systems. Sliding items over abrasion-resistant strips ensures that they reach the work bench safely. Various types of roller conveyor help keep the supplies coming in from Kanban shelves. The material flow components in Line D30 are incredibly easy to build and install – ensuring that everything flows smoothly.