Trolley and Rack
SystemMobiles S are exceptionally compact
These manoeuvrable picking and provisioning trolleys get tools and small quantities of materials to where they are needed -- fast. The single central column is also available in a height-adjustable version. The all-round edging on the tray makes sure everything stays put so that both standard storage boxes and individual items can be moved around as necessary.
Ergonomic material handling with hand-operated Karakuri mechanics
The magazine-based supply solution uses low-cost automation to make light work of restocking work benches. Pulling the lever automatically triggers two functions: The current crate is moved to the lower return line, while a new crate slides into place.
The go-to trolley for organising your workshop – this mobile toolpanel® offers plenty of space for tools and accessories. Simply push all working materials to where they need to be. The toolpanel® can be used on both sides, with its end-to-end grooves enabling users to position Hooks and Holders at whatever spacing required. Featuring four castors with brakes, the SystemMobile T provides a stable footing and an easy means of moving equipment.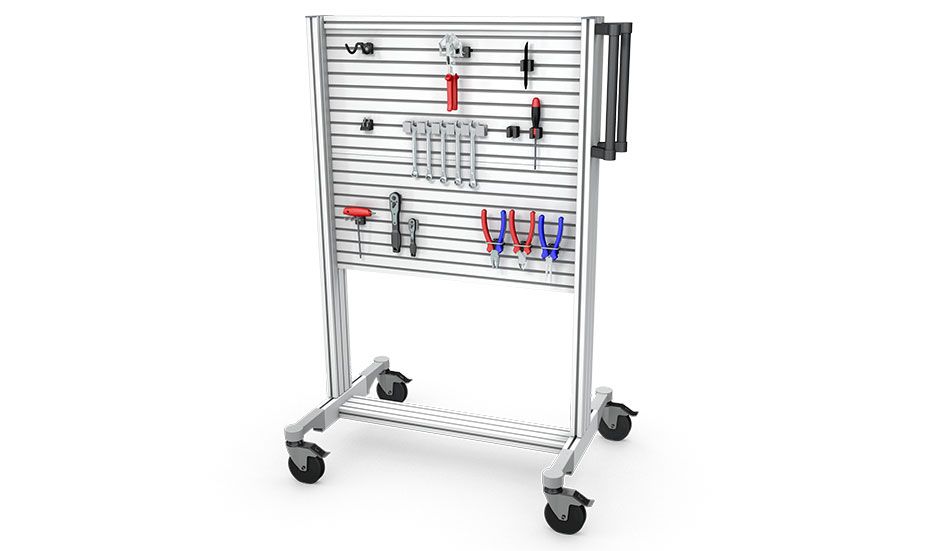 Mobile D30 Kanban FIFO rack
This mobile FIFO rack features colour-coded Kanban roller conveyors that indicate how full a shelf is. Thanks to built-in lighting systems, operations will run smoothly even…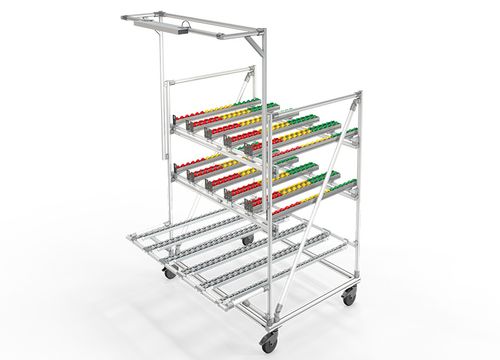 Modular side carriage made of Profile Tubes
Three flexible working levels make the side carriage a useful aid for production operations. Boxes and workpieces can be stored flat or at an angle. Both the level positions and the guard rails can be easily adjusted.
This innovative technology from item uses easy-to-fit Tube Connectors. The only processing work required is to cut the Tubes to size.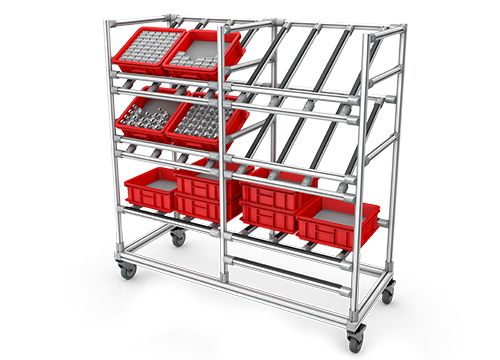 Mobile standing desk with complete computer workstation
This incoming goods trolley has been designed as a work bench for a computer, where sufficient space is also required for writing by hand. The writing surface is arranged at an ergonomic angle and gives the trolley an appealing look. The surface at the top is designed to support a monitor. The keyboard pull-out one level below uses a telescopic rail that has been optimised for frequent use. The lower storage surface can also accommodate a desktop PC.