Aluminum System Building Kits for Industrial Applications
The item product porfolio comprises more than 3000 high-quality components designed for use in machine bases, lean production applications, automation solutions and work benches. For more than 30 years, engineers around the world have been relying on the MB Building Kit System because it offers solutions that simply work.
Discover our services:
Free CAD data.
Deflection calculator.
Design Service (technical drawings according to your specifications).
High-quality equipment to cut and machine profiles with exceptional accuracy.
Reduced shipping costs be delivering products in pack sizes.
Smart fastening techniques: no specialist assembly expertise is required.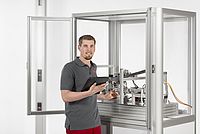 How can machinery be built faster, more cost-efficiently and with improved flexibility?
Over 500 different profiles, nuts and screws, handles and fasteners and even mechanical drive elements to creat the customized solution for your specific needs!
Lean Production Building Kit System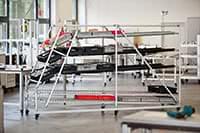 Ready to boost productivity? The concept of a tube system - but taken to a whole new level.
The item Lean Production Building Kit System is easy to assemble and easy to convert - self-explanatory functional elements can be configured and reconfigured rapidly. It is ideal for building needs-based material provisioning and picking systems.
Want to save production costs?
Automate your entire production line with item to increase output and quality while reducing labour costs at the same time. The Automation System offers ideal solutions for everything from simple positioning tasks right up to fully automated production lines. Automation technology from item helps you build slide systems with a stroke length of up to 24 meters