Professional frequency-controlled chain hoist
Mechchain Pro II™ is a very easy-to-use and ergonomic lifting device for professional lifting that joined Movomech's range back in 1995 and has been continually developed and refined ever since.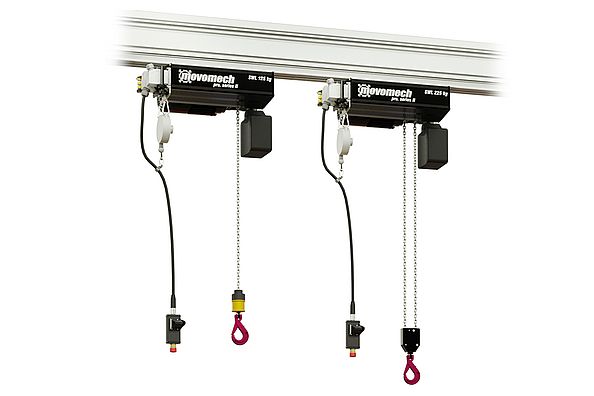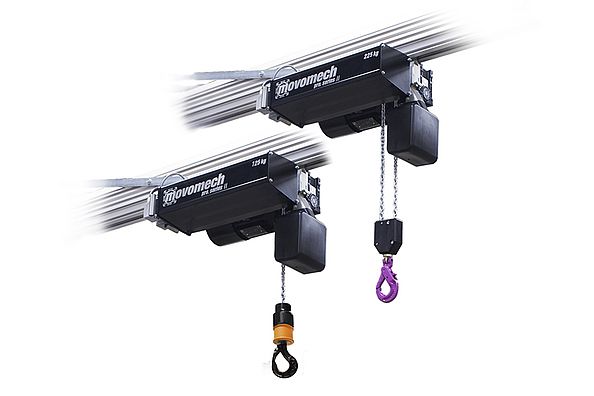 Smooth and precise lifting motion
Its main strength is the combination of good control and high precision. In addition to this, the lifter has an impressive lifting speed of up to 16 m/min. Frequency control provides a continously variable lifting speed controlled by the joystick.
Low installation height – high availability
This lifting unit is suitable when well-controlled and precise movement is required. Integrated with its trolley, it has the lowest headroom requirement on the market, enabling installation even in confined workspaces.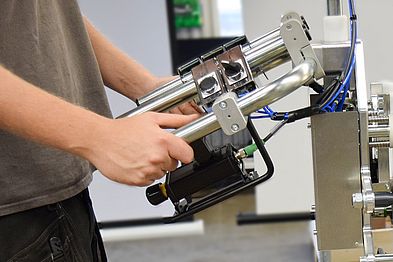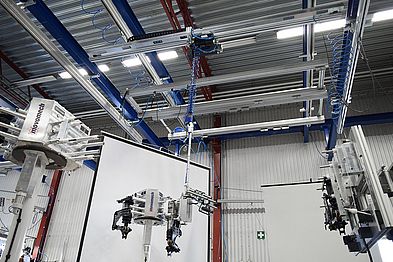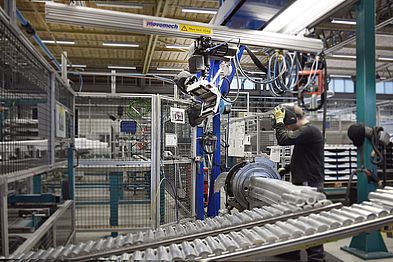 Optimal for assembly processes
Mechchain Pro II™ is available in a range of weight classes up to 225 kg, and its typical application areas include:
Material handling with custom gripper tools
High-precision assembly work
General lifting with slings or hooks
Lifting within general industry
Packing onto pallets and roller conveyers
Integrated PLC & optional remote control
Mechchain Pro II™ has an integrated PLC which simplifies the use of custom features. A remote control option is also available for applications in which this better facilitates handling.
Encoder for stop positions
Mechchain Pro II™ can also be equipped with an optional encoder that reads the axle in the spindle limit switch. This enables you to set both the lower stop position and two additional stop/start positions along the stroke. The positions are stored in built-in memory in the frequency converter and are not lost in the event of a power outage.
Control units in aluminium
For high availability even in challenging environments, Mechchain Pro II™ has been equipped with a control unit in aluminium with a quick connector for the control cable. A selection of optional standard control unit brackets are also available for easy installation on gripper tools or vacuum yokes.
Product features
For professional lifting
Lifting movement with very high precision
Continously variable lifting speed of up to 16 m/min
Programmable
Optional remote control
Minimum build height
Control unit in sturdy aluminium
Sapelem Ze Solution
Electric wire balancer
For advanced material handling with strict demands on safety, ergonomics and precision, BIBUS Vietnam offers the electric lifting manipulator ZE Solution™ from Sapelem. This lifting solution complements BIBUS Vietnam's wide product range and is a recommended choice for handling operations with a need for the integration of extensive technical features in the controller.
PRODUCT FEATURES
For intelligent lifting of up to 300 kg
Precise electrical load balancing for maximum precision
Full safety functionality with integrated brake
Pre-setting of different operator settings
Reactive and fast servo motor operation (up to 2 m/s)
Durable and easy-to-handle lifting wire for easy and ergonomic lifting
Smart actuator for optimal adaptation to every lifting operation
Quick coupling and 360° swivel unit as accessories
Load cell as an accessory for electrical balancing of varying loads